Shaving Soap - (5 fragrances)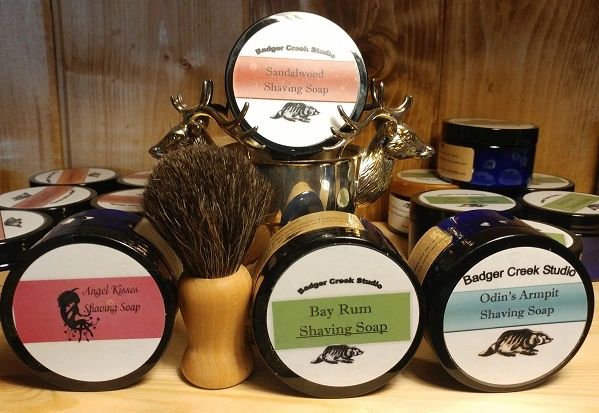 Shaving Soap - (5 fragrances)
Many people are choosing to return to more tradition ways of shaving.  If you are reading this, you probably have done some research on the benefits of using Natural Ingredients in shaving soaps.
Here at Badger Creek we use quality ingredients to give you a rich, creamy, bubbly lather, as well as moisturizing and conditioning of your skin, for a lifetime of great health.
*We have improved on our formula to make a shaving soap that we hope you will enjoy.
NOW with 5 fragrances: Bay Rum, Odin's Armpit, Sandalwood and Angel Kisses (for the ladies), NEW = Dragon's Blood!
(Please NOTE: Not to be used on your private parts)
Ingredients:  Coconut Oil, Distilled Water, Palm Oil, Olive Oil, Castor Oil, Tallow, Sodium Hydroxide, Fragrance, and Kaolin Clay.
Each jar holds 4 oz.
TIPS to make lather:
Fill jar up with water, then immediately dump it out. Whatever water is left in the jar is all you should need to produce a nice lather. Swirl your brush within the jar and watch your brush foam up with lather.
Don't forget to form your brush and air dry your soap by leaving the lid off after use.
NOTE: This is a shaving SOAP, not shaving CREAM.