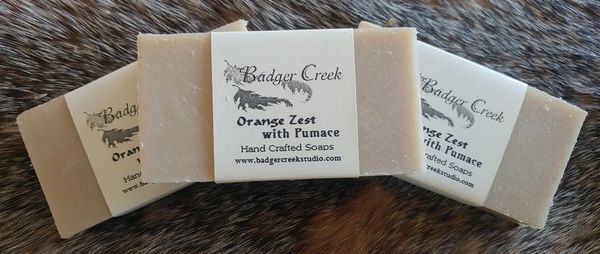 Orange Zest w/Pumice
We've talked to many Gardeners and Mechanics and they always keep their eye out for scrubby soaps. SO, we wanted to enhance our Orange Soap with some real Zest! This soap has a wonderful Satsuma Orange scent with just the right amount of Pumice to scrub all that dirt away!
Our bars are made with Olive Oil, Coconut Oil, and Shea Butter. Each bar is approximately 4 oz.
Orange Zest scent is also available in our amazing Chameleon Spray! These can be used as an Odor Eliminator Spray or as a Body Spray. If you like this soap, try out our Chameleon Odor Eliminator Sprays - http://shop.badgercreekstudio.com/products/cameleon-sp
* Want four of this fragrance? Save on our 4 pack of soaps for $21- http://shop.badgercreekstudio.com/products/4-pack-of-soaps-you-choose