Moon & Sun Magnifying Glass Necklace Pendant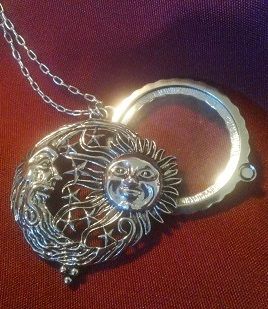 Moon & Sun Magnifying Glass Necklace Pendant
The Moon & Sun pendant is a useful magnifying glass encased in antiqued silver tone metal pendant
featuring a faced sun and moon with stars sprinkled between them.
The two portions are held together with a small magnet at the bottom of the necklace.
Chain is 30.5" long plus has a 3" extender.
Pendant Measures approximately 2 inches.
This pendant is nickel and lead free.