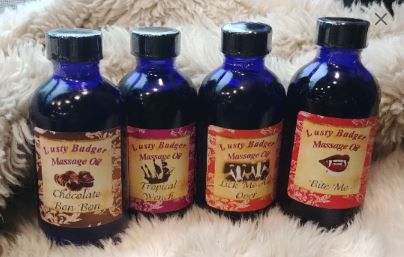 Lusty Badger Massage Oil
Hate that sticky feeling from over the counter edible massage oil? We have created a delicious massage oil that has fun slip and no sticky mess. Our lusty Badger oil contains fractionated coconut oil, grape seed oil, stevia and flavoring, No sugar. Sugar in massage oil can promote yeast infections and other problems. Please be aware, oil can break down the effectiveness of condoms. No babies on our watch!
Choose from our scrumptious flavors in our 4 ounce glass bottles with leek proof lid
Bite Me- cherry
Tropical Wench- pineapple and coconut
Lick me all over- fruity loops
Chocolate bon bon. 
External use only