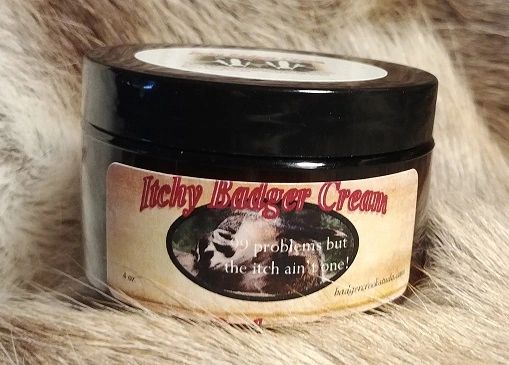 Itchy Badger Cream (4oz)
99 reasons, but the Itch ain't one! It's time to put an end to itchy suffering!
Do you work outside? Live near some woods?  Love to Garden? You might get poison ivy one of these days, so be prepared with our Itchy Badger Cream.  This will take the itch out! Our cream contains Jewel weed, a natural plant used by native Americans to combat the itchy rash associated with poisons irritating plants. Jewel weed is also an anti-inflammatory and is useful for eczema, psoriasis, or dry skin. We also use Calendula and lavender for their skin soothing properties. Hemp oil, Sweet Almond oil, goats milk, and Oatmeal have had great success with skin issues in our other Badger creek recopies, so we included these quality ingredients in our Itch Badger lotion also.
Apply as needed. As with any botanical lotions and salves, always check with your doctor for drug interactions or allergies.  If your nursing or pregnant, check with your doctor. External use only. Test a small area of skin first.
Ingredients:  powdered oats, goats milk lotion, vitamin E, lavender eo, jewel weed eo, calendula eo, distilled water, hemp oil, sweet almond oil almond oil