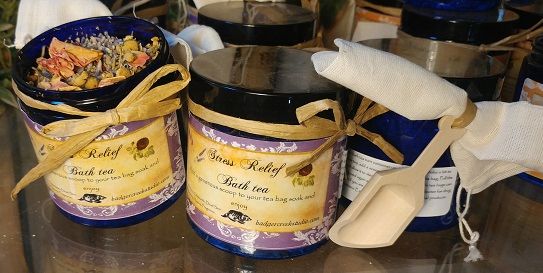 Bath Teas
To enjoy your bath tea turn container upside down and shake a bit to ensure salt is on top, add a scoop or two to your muslin tea bag, Pull the string tight, and allow it to steep in your bath water. Muslin tea bags can be washed and used again and again.  ( Check with your doctor for drug interactions,  or if you are nursing or pregnant. Some herbal products can cause reactions. External use only)  This is for a 8oz jar. 
Detox Bath Tea:
    Badger Creek Studio offers a blend of  herbs that have been used for centuries known for their detoxifying effects. We blend our tea with Salt from the Dead sea to add trace minerals and soften your skin. 
    Contains: Dandelion, Lemon Grass, Green tea, Mug Wort, Dead Sea Salt, Lemon essential oil
Skin nourishing  Bath tea  :
    Indulge your skin in a  tea specially blended to Pamper , nourish, and revive your skin.   Pink Himalayan salt acts as a natural antibacterial while also allowing for trace minerals to be absorbed through you skin. Oatmeal and milk and Rose will soften your skin , while Calendula and lemon balm are known for their health benefits. 
    Contains: Calendula, Lemon balm, Oatmeal, powder milk, rose petals, Pink  Himalayan salt, Fragrance oil
Stress relief Bath Tea:
    We combine  relaxing lavender, rose Hyssop and Chamomile for a  savory stress reducing treat .  Dead sea salt acts as a natural antibacterial and will help replace  valuable trace minerals to your bath .  
    Contains: Lavender, Rose, Chamomile, Dead Sea Salt, Rosemary, Hyssop, Fragrance.