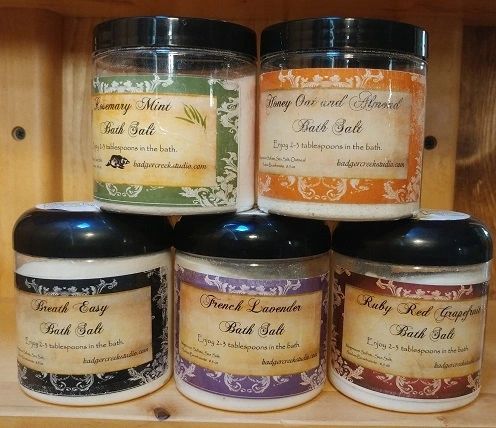 Bath Salts
Bath time is a "you" time! Take time out, and enjoy a soothing soak with our scented bath salts. Epsom salt, or magnesium sulfate is an important mineral for relaxing muscles and overall wellness. We add sea salt for its trace minerals and healing properties. Our salts are fragranced to make your bath time enjoyable . Add in your own candle light and wine, have some "me time"!
We dehydrate our Epsom salt for a longer lasting product and a longer shelf life for this bath salt. We don't use botanical pieces in our salt, so no mess in your tub.
 
 * Lavender will relax you with its calming floral scent
 *Honey oat and almond contains powdered oatmeal and, powdered milk, and powdered honey. We use a lovely almond fragrance for your scent. What a treat for your skin!
 * Rosemary Mint is uplifting 
 * Breath Easy will make your scenes tingle with eucalyptus to open you breathing passages.

Our skin is the largest organ in our body, why not treat it to a great mineral rich bath!
8.5 oz